Well, I decided to reach the forum to ask for an incisive help from you guys! Unfortunately, I'm pretty much no expert on PC gaming whatsoever, as I've always been a console player and stuck to that 'til now. I've recently purchased this Acer Predator Helios 300 Notebook model G3-572-75L9, which comes with an GTX1060 of 6GB DDR5, INTEL i7-7700HQ and 16GB of RAM. Based on this ignorance of mine regarding necessary specs for gaming, the recommendation of this laptop was after a discussion with two other friends who are experienced in all this, and, besides, they have similar specs on their PCs (they don't own a gaming notebook, though).
I've constantly been facing hideous performance in games, specially CS:GO, which is the game I'd like to dedicate myself the most. Unfortunately, I couldn't seem to reach a qualitative and sufficient performance whilst in-game with the automatic settings CS assigns as default, based off of your benchmark power (in my case, it's all set on High). Frame rate barely hits 100 FPS when I'm set on Fullscreen mode, and, if I change it to Fullscreen Borderless (to make Alt+Tab easy), if FPS comes around to 80 is indeed a huge step!
As far as I knew, these laptop specs were supposed to handle greater frame rate rather than what I've been experiencing lately, primarily taking into account these performance test-wise videos: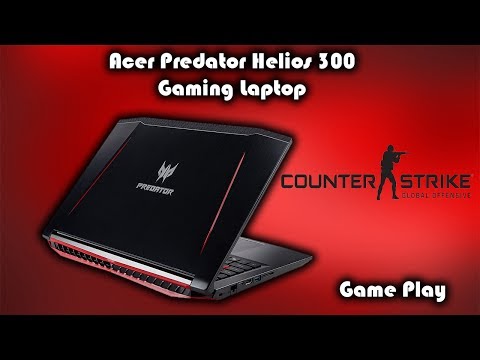 I mean, *****, those dudes can hit 180+ FPS quite easily, whereas I've been going through this overwhelming issue. I have updated NVidia's drivers to their latest versions (v.411.70) through their own website; updated everything that applied on Windows Update; switched the option, in NVidia's control panel, to focus on Performance over Quality ("Adjust image settings with preview" tab), as well as swapped Preferred Graphics Processor to High-Performance NVidia Processor ("Manage 3D Settings" tab); disabled Whisper Mode in NVidia Experience software; battery plan is on High performance too; set Overclock Turbo for the GPU using Predator Sense software, amongst many other things I can't even remember now. I've even tried to reset this laptop to factory default state, selecting the "Clean Unit" option, which would be some kinda advanced restoring process on Windows 10, so that I could assure everything would be set to stack 0, yet no success on that either
I am extremely disappointed with this whole matter, as I thought at first glance I could reach at least the minimum expected, and not what's been going on now. And notice that I purchased this notebook on Sep 19th, it arrived Sep 25th, that is, it's indeed a very recent acquirement. In fact, what is impressive in all this is, even if changing CS settings to either Medium or Low, frame rate remains EXACTLY the same. There's no bare sign of 1 FPS increase to show somewhat improvement in the game performance.
I honestly don't know what else I can do, because I pretty much have ran out of options. I tried to check some other threads here in this community forum, but in these one has either fixed this problem with one of the aforementioned attempts, or has fixed it, yet doesn't even tell how one could do such.
Thus, I ask, nice and gentle, you guys to help me regarding this whole matter, since I'm getting worked up for real and I don't have the bare minimum idea of what else I can do to fix this. Seriously, guys, I'd highly appreciate any kind of help! Thanks in advance!