Even though Windows 10 keeps getting faster and leaner, and hardware more capable, eventually, the performance of your computer will slow down due to a lot of factors. Pc in today's world have been upgraded with Smarter operating system and advanced hardware. Yet slow performance and sluggishness still remain the biggest problem for computer users. No matter how smart your Operating System is, it still requires a few tweaks  to optimize Windows 10 performance.
How does this guide going to affect your PC you may ask?

*More FPS in games, less shuttering
*overall better performance
*Less resource-intensive
*Reduce input lag
*Makes your windows highly responsive 
🔴: Before starting it is recommended to create a system restore point
-In the search box on the taskbar, type Create a restore point and select it from the list of results.
-On the System Protection tab in System Properties, select Create.
-The System Protection tab in System Properties
-Type a description for the restore point, and then select Create > OK.
🔴:if something goes wrong, you can run System Restore and point it to a recent restore point
1) Installing Windows updates

One of the best ways to get the most out of your PC is to make sure you have the latest version of Windows 10 installed. When you check for updates, your PC will also search for the latest device drivers, which can also help improve your PC's performance. New updates tend to add bug and stability fixes or, in the case of things like video card drivers, better performance and functionality with newer games and apps.
check for updates-
Select the Start button, then select Settings  > Update & Security  > Windows Update  > Check for updates
Go to settings> System> Notifications & actions 
Scroll down until you see the ''Get notifications from these senders'' section. Go through the list and toggle off the button for the apps you don't want to receive notifications from.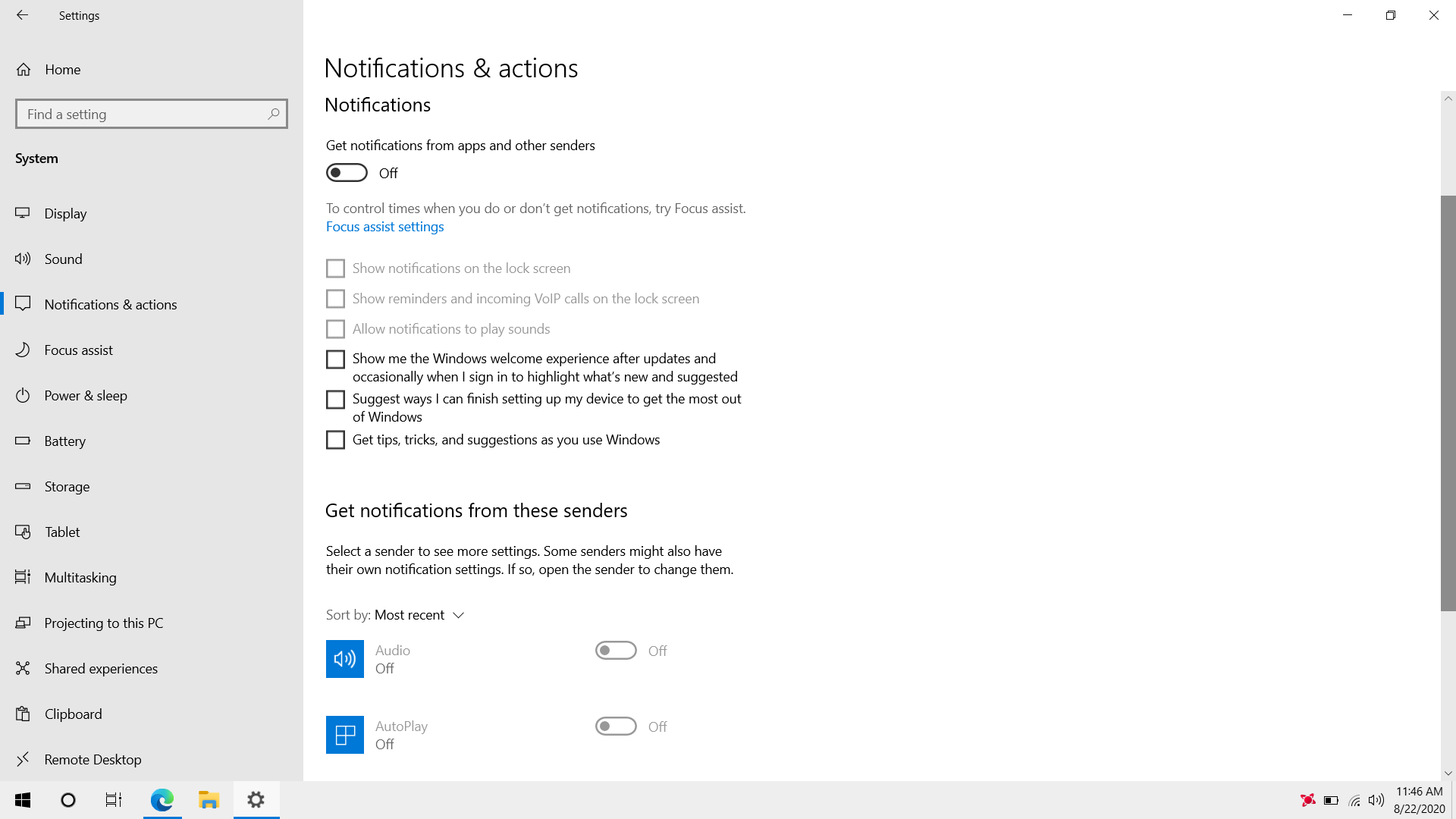 As long as you're here, there is another adjustment you can make. Under Notifications, you can turn off the option to ''show notifications on the lock screen'' and ''show reminders and incoming VoIP calls on the lock screen''
I disable everything under notification just for personal preference

(Go to settings> System> Focus assist)
Now go to Focus assist tab and make sure under focus assist select ''OFF'' and toggle off every thing under ''Automatic rule''
(Go to settings> System> storage)
Click on storage tab and turn off ''storage sense''
I didn't like this feature windows might delete your stuff and files without your knowledge in the background
(Go to settings> System> Clipboard)
Click on Clipboard tab and turn off ''clipboard history''
(Go to settings> System> Remote desktop)
Now we gonna head into remote desktop tab and turn off ''Enable Remote Desktop''
(Go to settings> System> Shared experiences)
Now finally, Go to Shared experiences tab and toggle off everything
2) Go to settings> Personalization> Colors
Scroll down a bit and under More options turn off ''Transparency effects''
(Go to settings> Personalization>start)
Click on the start tab and here we going to turn off everything
now, click on ''Choose which folders appears on start'' and turn off everything except settings to keep a more minimalistic look


(Go to settings> Personalization>Taskbar)
Finally, Click on taskbar tab scroll down a bit and under Notification area click on ''Turn system icon on or off''
Here we gonna turn off everything except Power, Network, Volume, Clock
(Keep input indicator ON if you're switching between multiple keyboard languages)
Now get back scroll down a bit under people turn off everything
3) Go to settings> apps> Offline maps
click on delete all maps then  scroll down a bit and turn off ''Metered connections'' and ''Automatically update map''
(Go to settings> apps>Startup)
Click on startup tab here Many of the apps installed on your computer can configure themselves to launch automatically during startup and continue to run in the background.
However, if you don't use those apps on a daily basis, or you don't have a powerful device, they can waste valuable system resources, which can significantly slow down the experience
Once you complete the steps, your device should now start faster than before. Of course, levels of improvement will vary depending on the applications you're disabling and your hardware configuration.
(Go to settings> apps> apps & features)
-click on apps & features tab Move towards the right pane and click on the link ''Optional Features'' 
-Select and uninstall those features that you don't use on a daily basis, they can waste valuable system resources
4) Go to settings> Gaming> Xbox Game bar
Here we gonna turn off everything
Turn off Xbox game bar and untick open Xbox game bar using this button on a controller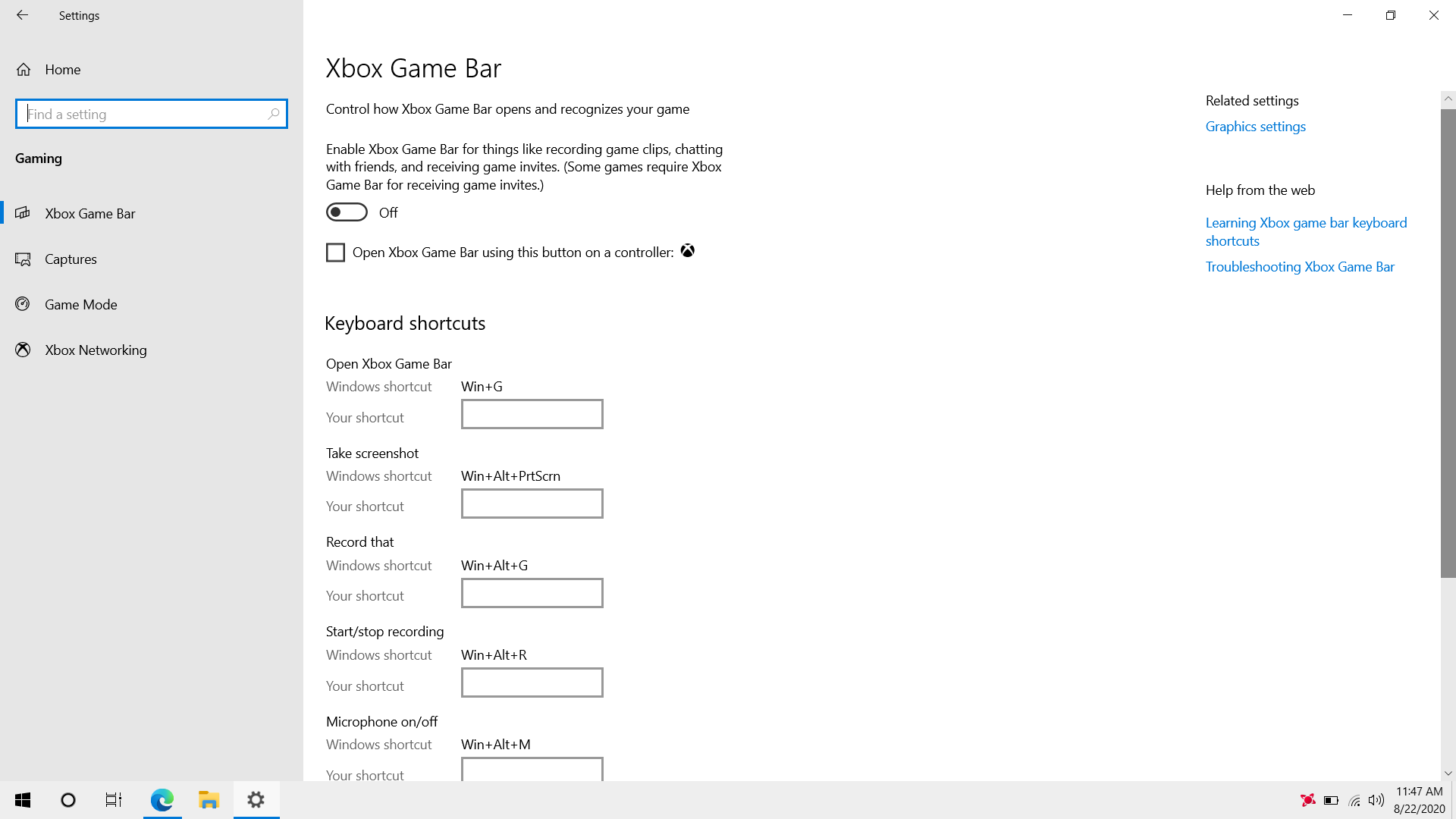 (This fixes crashes in online games like Fortnite and apex legends)
(Go to settings> Gaming> Game Mode)
Finally, click on Game mode tab there you need to turn off or on this feature
For Nvidia users- Ultimately Keep game mode feature on but if you experience any performance problems turn it off
For AMD users- No need to check anything just Keep this game mode feature off it may Cause lag, FPS drop, Shuttering, Freezing in AMD GPUs when turn on
(This feature is on by default)
5) Go to settings> Ease of Access> speech
Turn off ''Speech Recognition''
(Go to settings> Ease of Access> Keyboard)
Click on keyboard tab and here we literally gonna turn everything off and untick 
(This is to remove the small annoyances that might occurs with your mouse and keyboard while you're playing games)
6) Go to settings> Privacy> General
Under general, turn off everything
(Go to settings> Privacy> speech, Inking & typing personalization, Activity history, app diagnostics)
one by one click on speech tab, Inking & typing personalization and activity history then turn off everything
(Go to settings> Privacy> Diagnostic & feedback)
Click on Diagnostic & feedback tab then set it to basic then scroll down a bit and set Feedback frequency to Never.
Also, don't forget to delete diagnostic data
(Go to settings> Privacy> location and microphone)
click on location tab and turn off location access then click on the microphone tab and turn off microphone access if you don't use 
(Go to settings> Privacy> Other devices)
click on other devices tab and turn off ''Communicate with unpaired devices''
(Go to settings> Privacy> Background apps)
Click on background apps tab and Turn off ''Background apps''


Note- You can also turn off tasks, Emails, Messaging, radios tabs settings if you don't use
7) Go to settings> Update & security > Windows update
Click on advanced options and make sure everything is turned off then click on delivery optimization and turn off ''allow downloads from other PCs''
8) Go to settings> Accounts> Sign-in options
Under Restart and Privacy Turn OFF all configuration
9) Turn off visual effects
- Hold window key and press R
-Now under run window type
sysdm.cpl ,3
and press enter
-Under the advanced tab in the performance, category click on settings then select ''Custom'' and follow below image
-now in the same window click on the advanced tab then click on change under virtual memory> untick automatically manage paging file size for all drives then one by one set all drives no paging files
-now Assign the virtual memory to the fastest drive select your fastest drive> tick system managed size and click on SET 


🔴(SSD is faster than HDD, install your games in the fastest drive)


-In the virtual memory window, press ok> ok> apply
-Now navigate to startup and recovery> click on settings> untick ''time to display list of the operating system'' > ok
-Finally, go to remote tab then click on advanced> untick ''Allow this computer to be controlled remotely'' > ok then untick ''Allow Remote Assistance connection to this computer'' > apply> ok>  restart later 
10) Defragment your Windows 10 PC
Note-
Don't do this step if you have SSD, With a solid-state drive, however, it is recommended that you should not defragment the drive as it can cause unnecessary wear and tear which will reduce its life span.

Optimizing your drives can help your PC run smoother and boot up faster. To optimize them:
-Select the search bar on the taskbar and enter defrag
-Select Defragment and Optimize Drives
-select and optimize disk driver one by one
🔴(Also under scheduled optimization make sure it is set to off (untick run on a scheduled)
11) Turn Off Mouse Acceleration
-open settings
-click Devices
-In the Bluetooth & other devices window, click Mouse in the left navigation pane
-In the Mouse window, click Additional mouse options in the right navigation pane
-In the Mouse Properties window, click the Pointer Options tab
-Untick Enhance pointer precision checkbox and select the middle setting, number 6 for mouse sensitivity
-Click Apply
12) Decrease sound quality to improve system performance
This will highly benefits you in games and music
-Head down to bottom right corner where you'll find little speech
-Right click on it and press sound
-A new window will appear and in this window go to playback tab
-First right click on sound device and select show disconnected devices
-Then one by one disable sound devices that you are not using or not plugged in one by one.

-Now right-click on your primary audio device (DEFAULT DEVICE) then go to properties
-In the sound properties window, Go to spatial sound tab and make sure spatial sound format is set to off
-Finally go to the advanced tab (same window) under default format set DVD Quality(16bit, 48000hz) and under exclusive mode untick both configurations.

-Apply and ok
(In the sound window, do these same steps under Recording tab)
13) Delete temporary files
Press the Windows logo and R keys.
Type %temp%
Press Enter key.
Delete everything in the Temp folder
Again, Simultaneously press the Windows logo and R keys.
Type temp
Press Enter key.
Delete everything in the folder
Again, Simultaneously press the Windows logo and R keys.
Type prefetch
Press Enter key.
Delete everything in the Prefetch folder
(Some files may not be deleted in these folders that case press skip)
Finally, empty the Recycle Bin
14) Services tweaks
-Press the Win + R keys and type services.msc in the ''Run'' dialog that opens click ''OK'' and the Windows services will open
-Now find and disable these services
1)Connected User Experiences and Telemetry
2)Distributed link Tracking client
3)SysMain/Super Fetch
4)Print Spooler(ignore this service if you use printer)
5)Download maps manager (ignore this service if you use maps)
6)Windows search/search indexing 

-One by one double click on it to enter its properties window then click the Stop button and set startup type ''Disable''
7)AllJoyn Router Service (If you not use any smart devices then disable this service)
8)Windows insider service
9)Remote Desktop Services 
10)Touch Keyboard and Handwriting Panel service (Windows 10 is now fully compatible with both touch screens and handwriting recognition, but most desktop and laptop systems don't have that hardware. Disable this service if you don't use the touch keyboard or a pen)
11)Windows Error Reporting Service (If you don't want to send error reports to Microsoft then disable this service)
12)NVIDIA Streamer Network Service
13)NVIDIA Streamer Service

-Apply and ok
Note- some services will be turned on after every window update.
15) Disable High Precision Event Timer
Disabling HPET removes the micro-stuttering and screen tearing that may occur during gameplay. It allows unrestricted input-output to occur. This results in a very raw and extremely responsive connection between you and your PC.
You can use the device manager to disable the High Precision Event Timer. I'll show you how to use device manager settings to disable HPET.
-From search, type Device Manager and press Enter to open settings.
-Locate and expand System devices.
-Right click on High Precision Event Timer and select Disable to stop the HPET service.
16) Use static picture as wallpaper or solid background
Make Windows 10  not change wallpapers while gaming.
If you have slideshow running in Windows 10 background, that also changes the system accent colors when the wallpaper does, this causes the PC to drop a few FPS for a few seconds, freezes, stuttering.
Use static picture as wallpaper or for best performance use black solid background.
To do this- Select the Start 
 button, then select Settings > Personalization.
In Background, Use the drop-down menu under "Background" in the main windows to choose whether to use a picture, or solid color as a wallpaper
17) Clean re-install of graphics drivers with DDU Uninstaller
Display Driver Uninstaller (DDU) is a driver removal tool that can help you completely remove AMD (ATI), NVIDIA and Intel graphics drivers from your system, without leaving leftovers behind (such as registry keys, folders, files, driver store). Over time these leftover files can cause compatibility issues, such as drivers failing to install, reducing performance or system crashes/freezes. By using DDU you can remove these leftovers and solve many common issues related with GPU drivers.

Note
: These instructions in this post are for NVIIDA Cards 
but the steps are the same for AMD or Intel Graphics Cards.


Follow these instructions-
-First download the newest drivers for your graphics cards from the manufacturer site:
Nvidia- 
https://www.nvidia.in/Download/index.aspx?lang=en-in

Amd- 
https://www.amd.com/en/support
-Download the newest version of DD 
from here
.
-Take your device offline (This means, cut the Internet connection for the device you want to clean install the drivers on).
-Go to your Download folder then Double click on the file "
DDU .exe"

-Click on three dots select desktop path and Extract it
(DDU folder will be created on your desktop after extract)
-Now Start your pc in safe mode
Start your PC in safe mode in Windows 10 (microsoft.com)
-After safe mode manually, open the "
DDU
" folder and Double click on "
Display Driver Uninstaller.exe
-Choose "
GPU
" in the first drop-down-Menu
-Choose "
NVIDIA
" in the second drop-down-Menu
(if you have an AMD or Intel card, choose accordingly).
-Click on "
Clean and restart – Highly recommended
"
(DDU will now remove the drivers completely and reboot your computer in normal mode)
-Close all unneeded background programs and deactivate the real-time protection from settings
-Install the Nvidia/Amd drivers you have downloaded in starting
-Reboot your Computer > Reactivate your internet connection > Done
18) Nvidia Control Panel Settings
-Open NVIDIA Control Panel under 3D Settings
-Go to the Adjust image settings with preview tab.
-Click the "Use my preference emphasizing" (If you have a 
mid&high end pc, Let the 3D application decide
)
-Put the bar in Performance mode then click on apply
-Go to Manage 3D Settings then Select Global Settings tab then click on restore and follow these below settings for best performance (Don't change anything else)
-Select 
High Performance Nvidia Processor
 under preferred graphics processor
Settings:-Image sharpening
→Turn ON and select the Sharpen level to 0.50 and the Ignore film grain to 0.17
Ambient occlusion
→Turn ON and select it to Performance
Low Latency mode
→Turn ON for higher FPS and lower Input lag.
Max Frame Rate
→Turn OFF (if not by default)
OpenGL Rendering GPU
→Select your NVIDIA Graphics Card
Power Management mode
→ Prefer Maximum Performance
Preferred Refresh rate
→ Highest Available
Texture Filtering - Anisotropic Samples
→Turn ON
Texture filtering - Quality
→Select High Performance
Vertical Sync
→OFF
Virtual Reality Pre - Rendered Frames
→Set value 1
-Now click on apply


19)Disable Unnecessary Features Using Folder Options
You can disable many unnecessary options using Folder Options to improve system performance and functionality.
-Open This PC and click on "View" tab present in Ribbon. Now click on "Options" button present at the end to open Folder Options window.
-Now go to "View" tab and uncheck following options:
Display file size information in folder tips
Hide empty drives
Hide extensions for known file types
Hide folder merge conflicts
Show encrypted or compressed NTFS files in color
Show pop-up description for folder and desktop items
-Apply the changes and close Folder Options window.
20) Intelligent Standby List Cleaner (ISLC)
Intelligent Standby List Cleaner monitors and free memory and standby list memory and acts whenever a set threshold is reached. It fix stutters

To use this tools follow the steps which are shown below-
-First download ISLC from this link
-After download double click on ISLC 1.0.2.4.exe and extract it on desktop then go to ISLC folder
-Open ISLC application and Set "The list size is at least:" to 1024
-Set "Free memory is lower than:" to half of your total system memory written on top left side
-Tick Wanted timer resolution and set it to 0.5
-Set polling rate 1000 for Mid-end CPUs and 500 for high-end CPU
-Now, finally click on start then click on Purge Standby List and minimize it to tray

Now your settings will be saved and next time when you open this app you just need to click on start then purge standby list and minimize it.
Always keep this app running in background while playing games
21)Turn off Hardware Acceleration
Discord
-Go to Settings by clicking the gear icon next to your username.
-Under App Settings select Appearance.
-Under Appearance Settings, scroll down and click Hardware Acceleration to disable it.
If you're a gamer and you experience frame drops while playing, it's recommended you turn off hardware acceleration discord.
Google Chrome
-First, you need to open the Settings page:
Click on the three dots symbol in the top-right of your browser, then select Settings.
-Scroll to the very bottom of the page and click on Advanced.
-Scroll down further until you see System. Here, click on the switch next to Use hardware acceleration when available so it turns grey.
-Click on the Relaunch button to restart Chrome and finalize your change
Note
→same way to disable hardware Acceleration in other browsers like opera, firefox, edge


22)Registry tweaks 

Now, let's take a look at the best performance tweaks, registry tweaks is also a notable method, which can improve gaming performance to some extends.
My registry script contain 20+ registry tweaks help you to boost fps, Reduce latency, Reduce Ping, Will optimized CPU/GPU scheduling for gaming, etc.
To apply these tweaks follow  the steps which are shown below-
-First Download my registry script from link 
https://www.mediafire.com/download/umsx5d8rdyk3sul
 (Last Updated - 05/8/21)
-Then go to your download folder and double click on Gaming tweaks by GAMING6698.reg file
-You'll be asked to give permission for Windows to changed the Registry based on what's in the file.
-click on yes then ok. That's it, simple!
Now restart your laptop and enjoy it!
Let me know in the comments below your results or if you have any questions and don't forget to like if this guide is helpful !!!