M.2 Slot Confusion Helios 500 ( PH517-61-ROGX) Ryzen
Subject Laptop:
Acer Predator Helios 500 (Model:RYZEN PH517-61-ROGX)  Bios V1.06
(refer to attached graphic below for this issue)
There seems to be a difference on ACER's website regarding the published info on the two M.2 slots for the Helios 500 RYZEN  and what is actually on the motherboard.
WHAT I OBSERVED:  Both slots (1 & 2) are physically configured with a right-side notch typical for PCIe NVMe SSD's.  ACER says Slot #2 is M.2 SATA only. What I learned is that the OEM M.2 SSD on Slot #2 is a PCIe SSD.  Correspondingly, Slot #1 does not work with a 2TB PCIe NVMe SSD I tried to install, but is physically configured for it (right-side notch).
The OEM-installed 256GB SSD in slot #2 contains Win 10 OS.  Upon inspection, this factory-supplied SSD in Slot #2 is in fact a PCIe SSD, not the SATA SSD specified for that slot on the website - See attached photo-illustration.  I had purchased an Intel 660p M.2 2280 2TB NVMe PCIe 3.0 x4 3D NAND that I originally intended to use as storage in Slot #1; however, the computer would not boot into Windows with the 2TB SSD in Slot #1.  After posting the problem on this forum, a user suggested cloning the Windows OS from Slot #2 SSD onto the 2TB and just replacing it in Slot #2 to boost my storage capacity from the original 256GB SSD.  I was able to successfully clone the OEM-supplied 256GB boot SSD in Slot #2 to the mentioned 2TB SSD in an external enclosure. Tthen I remove it from the enclosure and replaced the OEM-supplied SSD in Slot 2.  The computer operates with no issues with the Intel SSD.
I'm just confused as to why the ACER website says Slot #2 is "SATA only" when I'm NOW operating the computer with the Intel 660p M.2 2280 2TB NVMe PCIe 3.0 x4 3D NAND ?!

And what's up with Slot #1 not working with PCIe NVMe?
Bart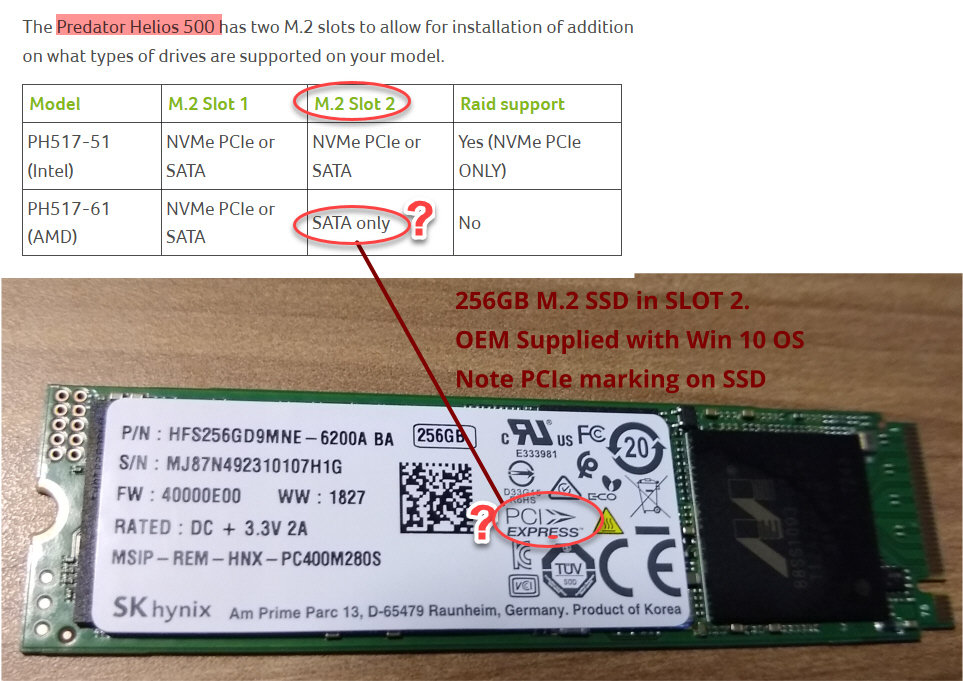 FAQ & Answers