I am really confused now, I am not risking to buy any m2 nvme ssd that would not be compatible with my device. It will be so upsetting to see that it will not work as it is so expensive and very hard to acquire. Please help me if it would support my laptop. I am pretty sure that it has an m2 ssd port but some reviews says that it only supports SATA3 speeds. Well, In that case, if it's conformed, I should stick on buying the fairly decent m2 sata3 ssd, but as what I am saying, If it supports the ultra fast NVMe, then why would I limit myself? I would go with the latter.
According to HWinfo, I only have the PCI express x1 on the root ports. They say you could only use nvme on x2-x4 PCIe. I really don't have an idea about these ssds. My Internal HDD is on it's dying stage so I really want a replacement as soon as possible. I'll attach screenshots for your reference. Thanks and Godspeed!
Tech Specs:
Model : Acer Aspire 7 A715-71G-57AY
Operating System : Windows 10 Home
Processor : Intel Core i5-7300HQ 2.50 GHz Processor (6M Cache, up to 3.50 GHz)
Chipset : Intel® HM175
Memory : 4GB DDR4 Up to 32 GB (maximum)
Storage : 2TB hard drive
Screen : 15.6" Full HD (1920 x 1080) resolution
Graphics : 2GB NVIDIA® GeForce® GTX 1050 GDDR5 
Connectivity : 802.11ac wireless LAN
Gigabit LAN
Audio & Video : 1280 x 720 webcam
Two speakers
I/O Ports : 1x USB 3.0
2x USB 2.0
Network (RJ-45)
HDMI Output
1x USB 3.1 Gen 1 Type-C
Input Devices : TouchPad
Battery : 4-cell 3220 mAh Li-Polymer
Adapter : 135 W
Dimensions  : 381.60 mm x 262.80 mm x 23.95 mm
Weight  : 2.4 kg
This is the image of the port if you remove the back case of the model. There is surely an m2 ssd port but the big question is, will it only support SATA3 or it could embrace the PCIe NVMe cards?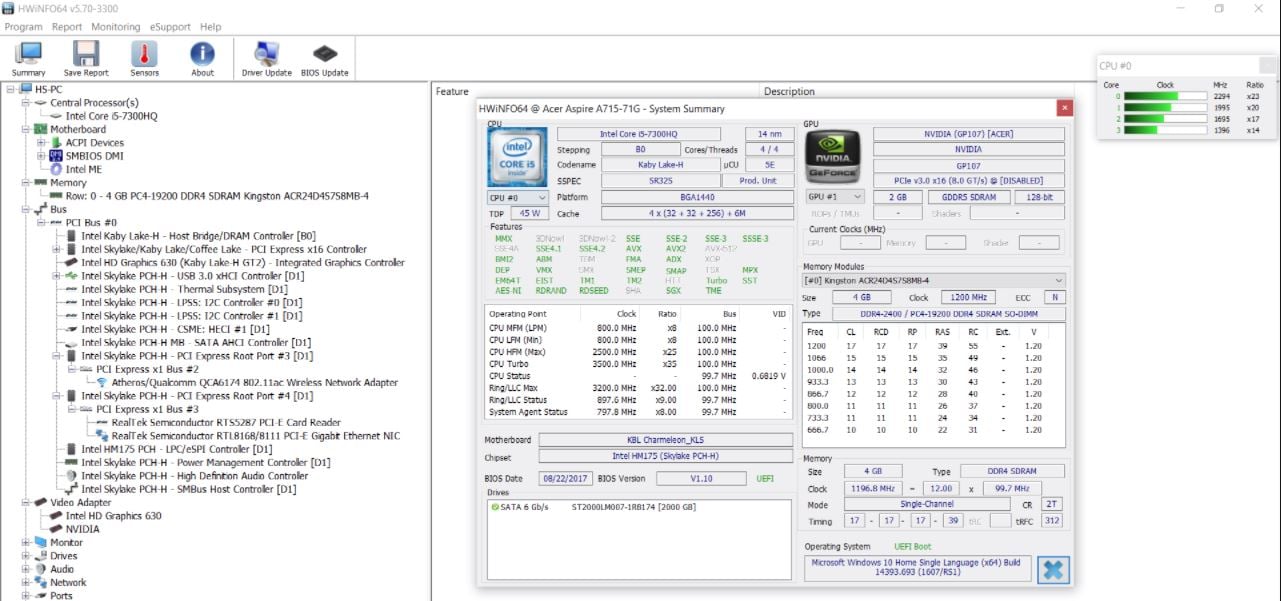 This is the HWinfo screenshot.