Note: This method is tested and worked perfectly fine to downgrade from bios version 1.07 to 1.06 in Acer predator Helios 300 PH315-53. And I was unable to test this method on other bios versions or similar laptop models so use it at your own risk as I will not be responsible for any damage caused.
Important Note (Read this before proceeding with any step):- 
You need to choose any of the below methods before following the downgrading steps below. Because the issue is that the bios will revert back to the newer version after successful downgrading when you attempt to restart or shutdown. To stop this automatic reinstall from happening you need to follow one of the two given methods below. But you need to choose this before proceeding with the downgrading as they both are different from each other. Choose whatever method you like but keep in mind that Method 1 is disabling firmware update from device manager which is tried by many other users with success but still some users face problems with it. So, if you don't like messing with the device manager then follow method 2 as it is 100% working.
Method1:
 If you choose this method then just follow all the downgrading steps below and then follow these steps:- Go to device manager >> Firmware >>  disable newer updates before restarting to avoid getting updated.
Method2(Suggested): 
If you choose this method then follow these steps before proceeding with the downgrading steps below. Clean install Windows before proceeding with the downgrading steps as it will wipe the copy of bios version 1.07 stored in your laptop during the update. And keep in mind to create a recovery drive before attempting clean install as you might want to keep the factory os that came with your laptop. Also, the clean install doesn't remove your windows license key as it is attached to your laptop hardware and windows will automatically take the key to activate itself. Now, after windows clean installation turn off the option "Receive updates for other Microsoft products when you update windows" which you will find in windows update >> advanced options. 
Points to keep in mind before clean installing windows:- 
After this follow all the below downgrading steps to successfully downgrade your laptop. And when it's downgraded it won't revert back to the newer version as it doesn't have a copy of the newer version installer. 
Steps to create downgrade able bios zip and then install it:-
Note:- If you don't want to create your own downgrade able bios zip then you can use this 
link
 to download a readymade file and then jump directly to step 11.
1. Register your Acer laptop and then visit the product section of your Acer account.
2. Now click on your laptop. This will open the driver and manuals page in which you will find Bios/Firmware section.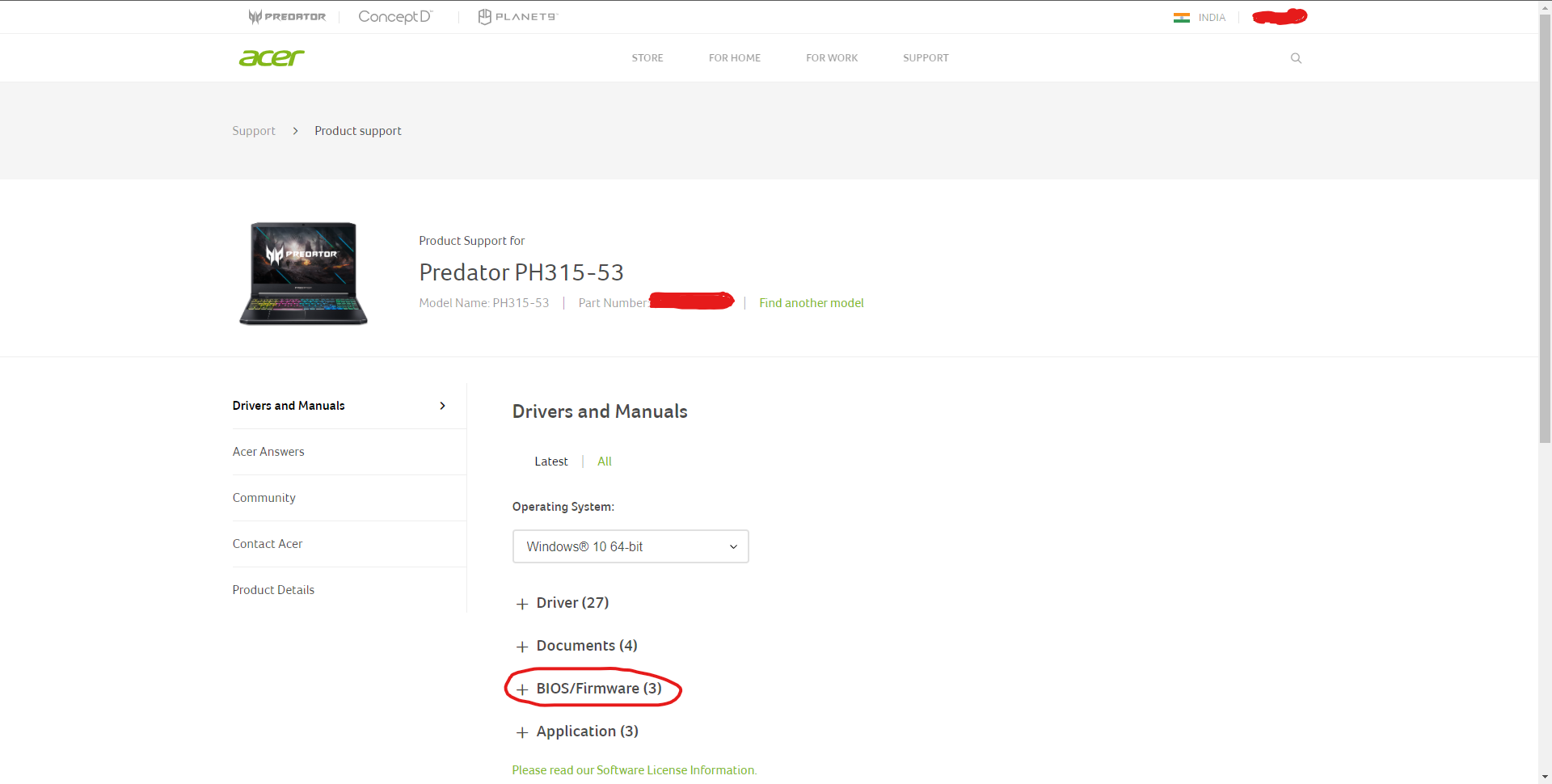 3. Open the Bios/Firmware section and download the bios version on which you want to move. In my case, it's 1.06.
4. After downloading extract the zip and run the exe file to install the bios. In my case it's FH53M106.exe. After running the file you see an error stating "The version of ROM file is not newer than that of BIOS".
5. Keep the dialog box open and don't click cross or OK. Now open Explorer and enable hidden items.
6. Now go to C:\Users\
Your_Account
\AppData\Local and open the Temp folder.
7. In Temp folder you will find a newly created file starting with the name as 7z and then some letters and numbers and ending with .tmp. In my case, it is 7zS9C88.tmp. Now coy this folder to your desktop.
8. Now open the folder you copied. Open the platform.ini file which you will find in the folder.
9. Now press Ctrl+F to find "Flag=2" in the file and replace it with "Flag=0".
Note:- If you received the message Cannot find "Flag=2" while searching then enable Wrap around in the find box.
10. Now after changing it to Flag=0 save the file. And now close everything and restart.
11. Now run the H2OFFT-Wx64.exe file in the folder that we copied to the desktop  (or that you downloaded from my link above step 1). This will downgrade the bios version.
Cheers, you have successfully downgraded.
Sorry for any mistakes in this post as I'm not good at English.
Credits to 
GALLEGO BONQUIN
 (for providing with downgrading bios zip) and And
Acer Gaming Discord
 (for providing zip creation steps).