CNET gave the Chromebook 715 an 8/10 rating in a review, the review commended its premium design, large display, battery life and performance. When it compared it to its pricey counterpart, it stated, "much more affordable version that dials back on the specs and extras but keeps the premium build quality, making it a fantastic choice for a home office or student Chromebook." 
First Numeric Keypad
Designed with numerists in mind, this is the first Chromebook to include a dedicated numerical keypad. Ideal for quickly inputting numbers, this Acer Chromebook's number pad reduces the need to hunt-and-peck for numbers along the top row and speeds up data input.
Tougher, Smoother Touch
Tapping, swiping, scrolling and zooming are smoother than ever. The Corning® Gorilla® glass touchpad provides a slicker feel than a regular plastic touchpad, and gives users the confidence that they are purchasing durable, quality Chromebook. With the ability to withstand scratches and pits it will continue to look as slick as the day you bought it.
First Fingerprint Reader
A first for any Chromebook, an optional embedded fingerprint reader located next to the keyboard is a quick and secure way for users to unlock and verify their identity without a password. Since the fingerprint's details are stored on the Chromebook itself, and not on the cloud, a user's fingerprints are kept safe.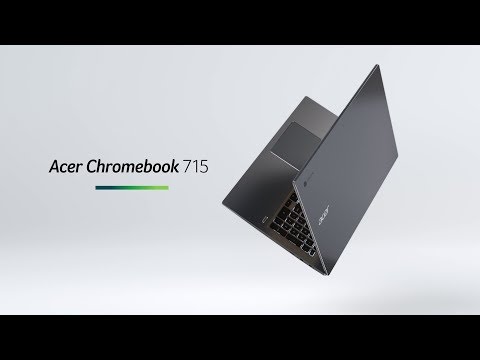 Discover more with CNET: https://www.cnet.com/reviews/acer-chromebook-715-review/
[1].Controlling certain devices and features in your home requires a compatible smart device. Google Assistant requires an internet connection.
[2].Specifications vary depending on model and/or region.