Acer announces the commercial availability of the Swift 7 in France and presented its new ambassadors
PARIS, FRANCE – Acer officially released the new Swift 7 laptop at Fnac Champs-Elysées. Previously presented to the public during Fnac Darty's event "L'appartement du futur" (the apartment of the future), and available to pre-order on the store's website, it was a party to celebrate the laptop's arrival in France!
Acer took the opportunity to unveil the names of the ambassadors who will represent the Swift range, starting with the Swift 7.  As part of the #MakeYourMark campaign, the three ambassadors, from different backgrounds, will use the computer in their daily activities and during their many trips.
Agathe Auproux is a journalist that has collaborated with the publications Les Inrockuptibles and also Madame Figaro, and has been working for two years as a TV columnist in channel C8.  She is known for her appearances in the programs "Touche pas à mon poste!" and "Balance ton post!". Very active on Instagram as well, she has more than 680,000 followers.
Malika Ménard is Miss France 2010. She is a graduate in journalism, has worked for magazines and hosts radio and TV shows. She also gives tips and beauty advice on her blog ModeByMalikaMenard.fr.
Hakim Jemili is part of the French stand-up wave. He started out on stage at the Paname Café theater and later became one of the most prominent French comedians on YouTube. With an offbeat humor and videos each one funnier than the previous, he knows how to make a mark with his vox pops and video selfies. Hakim Jemili will soon appear in Tristan Séguéla's film "Docteur", alongside Michel Blanc, making his first steps into the world of cinema.
7 Good Reasons to Choose the Acer Swift 7
Incredibly thin and light (890g, 9.95 mm)
Exceptionally compact (60% of a standard 14'' format)
Amazingly invisible borders (chassis/screen ratio: 92%)
Extraordinarily fast and powerful with its Intel Core i7 processor and 512GB SSD[1]
Unquestionably respectful of privacy: Fingerprint reader and pop-up webcam
Excellent connectivity with its Thunderbolt™ 3, data transfer up to 40 Gbps, Gigabit Wi-Fi technology 2x2 MU-MIMO[1]
Awarded with the CES 2019 Innovation Award, Red Dot Award 2019 and IF Design Award 2019
The Acer Swift 7 perfectly combines elegance and efficiency. Featuring an incredibly thin and light premium chassis made of magnesium-lithium and magnesium-aluminum alloy, the Swift 7 allows you to handle all your daily tasks with great fluidity. Composed of innovative features and integrating the latest technologies, the Swift 7 is a new, luxurious and ultra-compact case. Its exceptional design will make it the new essential companion for the most demanding professionals.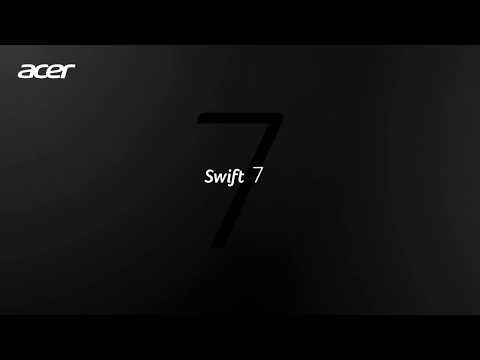 Fnac – Swift 7 (SF714-52T) Datasheet
Follow Acer France on their social networks: FB Acer l FB Predator l TW Acer l TW Predator l Instagram l LinkedIn 
[1] Specifications may vary depending on model/country.

*According to an Acer comparative study of April 9, 2019 on 14" touch screen laptops. Acer Swift 7 - 14'' screen; thickness: 0.995 cm; weight: 0.89kg.