The Predator Triton 900 is a gaming notebook in an inventive form factor with innovative new design features. It features a CNC-machined Ezel Aero Hinge™ that flips, extends, or reclines the 17-inch display featuring an Ultra-HD 3840x2160 resolution. Users can switch between four usage modes: Display mode for sharing the screen with friends during gaming sessions, Ezel mode for playing games on the touch screen, notebook mode for traditional gaming scenarios, and stand mode — effectively turning the Triton 900 into a tablet for gaming or using creator tools, it can be use with a pen for video and photo editing. The NVIDIA CEO Jensen Huang announced that 
RTX GPUs
 will work to accelerate 3D modeling and animation programs, edit 6K video (8K video on desktops) and broadcast pro-quality streaming from a single PC. The Triton series 900's trackpad is placed beside the keyboard, giving users natural hand placement for gaming using both the keyboard and trackpad. It's also amazingly thin at just 23.75 mm (0.94 inches).
Featuring the new NVIDIA® GeForce RTX™ 2080 GPU and a 4K IPS(1) display with NVIDIA G-SYNC™ technology, the Predator Triton 900 pulls no punches in bringing gamers a best-in-class gaming experience. With up to a six core high performance 8th Gen Intel® Core™ i7 processor, NVMe PCIe RAID 0 SSDs, and up to 32GB DDR4 memory, gamers can power up the most demanding games and expect smooth, tear-free gameplay. It comes with an Xbox wireless receiver that lets users play their favorite PC games on Windows 10 with an Xbox controller. To round out the package, it features audio by Waves. Waves Maxx™ delivers superior sound quality made immersive with Waves Nx™ with head tracking for a hyper-realistic 3D audio experience.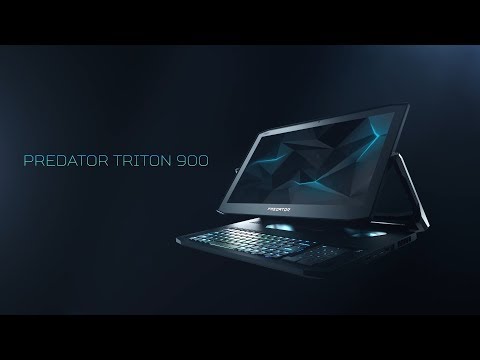 The Predator Triton 900 will be available in North America in March with prices starting at US$3,999; in EMEA in March, with prices starting at €4,199, and in China in March, with prices starting at ¥39,999.
(1)   All brands and product names mentioned herein include trademarks of their respective companies and are used solely to describe or identify the products.
minimizar para
MAXIMIZAR
.
Descubra a mais recente e inovadora tecnologia que chegará no mercado,
[email protected]
.