Acer Aspire series PCs bring together powerful processing power and graphics to deliver great performance for entertainment and everyday tasks
The notebook series is designed with enhancing experiences in mind, including HD or Full HD displays, Acer BluelightShield™ screen technology and a 180° lay flat hinge
For the prosumer and business users, Acer TrueHarmony™ delivers bold and lifelike audio for making video conference calls and entertainment astounding and clear
Acer revealed the all-new Aspire notebook line at its global press event in New York on April 27th. Featuring Windows 10, these everyday notebooks cater to a wide range of consumer needs, spanning from the family-and-student friendly Aspire 1 and Aspire 3, the practical and mainstream Aspire 5, all the way to the top-of-the-line Aspire 7.
For users looking for powerful performance the Aspire 7 features up to 7th Generation Intel® Core™ i7 processors and NVIDIA® GeForce® GTX 1060 graphics. The Aspire 5 has been designed for those who work hard and play even harder, packing in great CPU and GPU performance, and an optional Full HD display. The Acer Aspire 1 and 3 are built for everyday tasks, including fast 802.11ac wireless technology, great features for enhanced multimedia enjoyment and a responsive and easy-to-use Precision Touchpad.
Aspire 1 – Essentials for the Cloud Era
The Aspire 1 has been crafted to hit the sweet spot for users looking for a notebook for family sharing and web browsing or as a second device. It includes a one-year subscription of Office 365 Personal1, and 1 TB of OneDrive storage. With 802.11ac wireless technology - three times faster2 than traditional wireless technology – one USB 3.0 port, two USB 2.0 ports, an HDMI port and Ethernet, the Aspire 1 makes connecting effortless. The 14-inch device is powered by Intel Celeron® or Pentium® processors with 32 or 64 GB eMMC storage, 4 GB DDR3L memory and Intel® HD Graphics supported by up to 9 hours of battery life3. All this is fitted into a sleek chassis that measures less than 18 mm in height and weighs in at just 1.65 kg.
Aspire 3 – Everyday Computing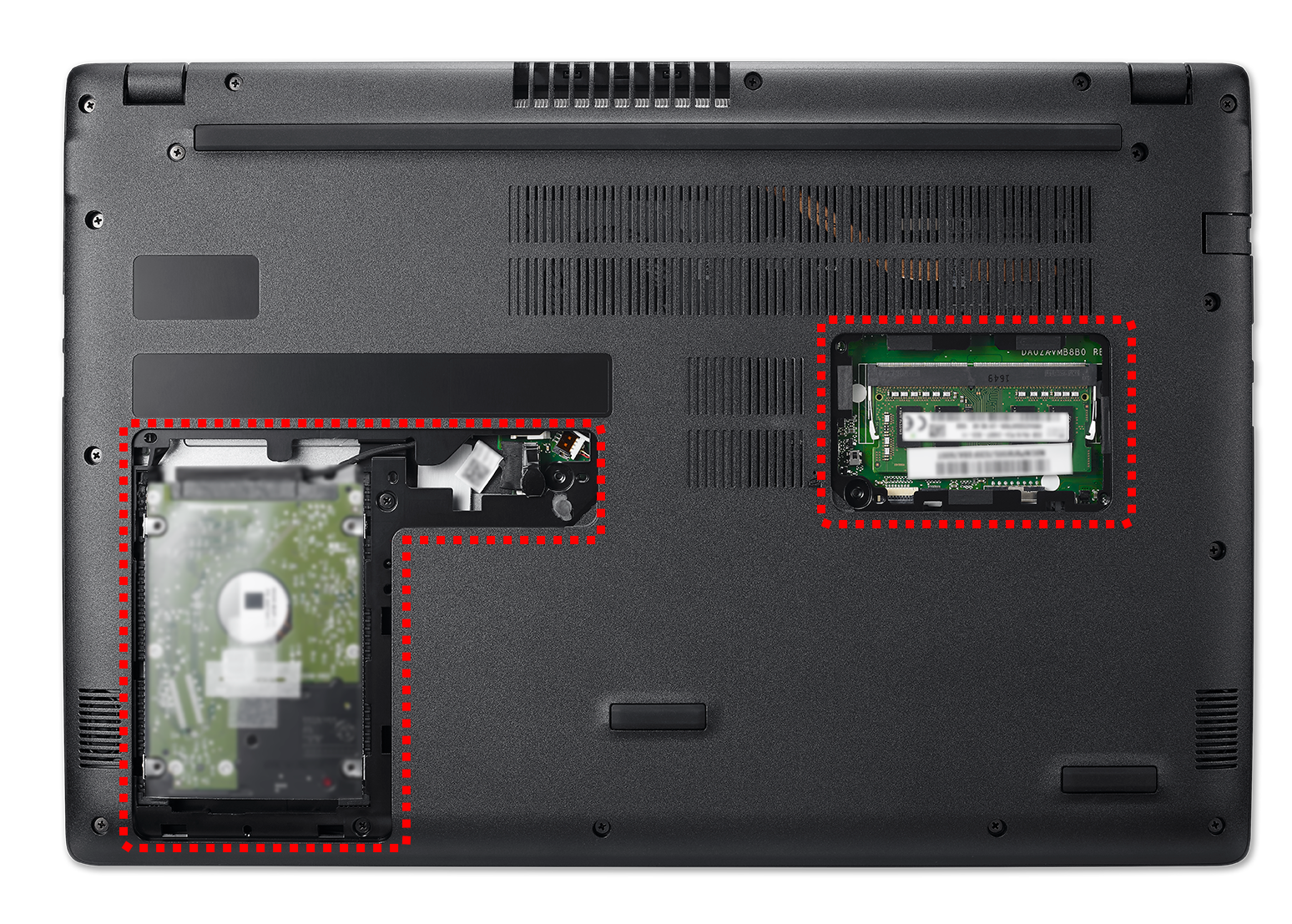 Following the same design and creative inspirations of the Aspire 1, extras were added to the Aspire 3 to give it a power and performance boost for more intensive media consumption needs.
The Aspire 3 comes with either a 14-inch HD, 15.6-inch HD or 15.6-inch Full HD display. Processor options for the Aspire 3 include Intel Core, Celeron and Pentium processors, with up to 12 GB of memory. It also includes Acer's BlueLightShield™ technology, which reduces the exposure of blue light which may help reduce eye strain.
Aspire 5 – A Workhorse that Stands out From the Crowd
Stepping up the capabilities and design to match more demanding user requirements, the Aspire 5 looks to fit a media heavy lifestyle – it's a dependable workhorse for anyone needing to create and share. Between photo-editing or online publishing, the Aspire 5 is the core tool around which users can organize a busy lifestyle.
The Aspire 5 is powered by up to 7th Gen Intel Core processors and latest NVIDIA GeForce graphics, and a maximum of 20 GB DDR4 2400 MHz memory. Storage wise, there are a range of options to choose from with HDDs up to 2 TB and M.2 SSDs up to 256 GB.
Enhanced multimedia performance is what makes the Aspire 5 stand out from the pack. Its 15.6-inch HD or Full HD display with IPS technology5 provides consistent colors and viewing from wide angles. Acer TrueHarmony delivers lifelike audio, while two digital microphones with Acer Purified.Voice ensures a great Cortana with Voice experience. In addition, Skype for Business Certification ensures crisp and lag-free communication. For additional peripherals, there's a USB 3.1 Type-C Gen 1 port, USB 3.0 port that supports power-off charging, and another two USB 2.0 ports.
Aspire 7 – Powerhouse Performance for Creators
At the top of the Aspire line sits the Aspire 7, designed for professionals such as designers and anyone who needs power and performance to match their professional ambitions.
Inside the Aspire 7's slick chassis is a powerful 7th Gen Intel Core standard-voltage processor and up to NVIDIA GeForce GTX 1060 graphics. Giving users the capability to make the most of all this power, the Aspire 7 comes with up to 32 GB of DDR4 2400 MHz memory and ample storage (HDD up to 2 TB and M.2 SSD up to 512 GB). The Aspire 7 also packs a HD camera with HDR while Dolby® Audio™ Premium provides a great entertainment experience.
Speedy network connectivity is provided with 2x2 MIMO 802.11ac wireless technology and Gigabit Ethernet. This is supplemented with the same port set-up as the Aspire 5, including power-off charging. All this is contained within a sleekly designed shell with a premium aluminum cover that features a highly stylized texture. The Aspire 7 comes with either a 15-inch or 17-inch display.
Pricing & Availability
The Acer Aspire 1 series will be available in North America in June starting at $219; and in EMEA in June starting at €249.
The Acer Aspire 3 series will be available in North America in June starting at $299; in EMEA in June starting at €399; and in China in April starting at ¥2,799.
The Acer Aspire 5 series will be available in North America in June starting at $449; in EMEA in June starting at €549; and in China in April starting at ¥3,999.
The Acer Aspire 7 series will be available in North America in June starting at $799; in EMEA in July starting at €899; and in China in May starting at ¥5,999.
Exact specifications, prices, and availability will vary by region. To find out about availability, product specifications and prices in specific markets, please contact your nearest Acer office or retailer via www.acer.com.
© 2017 Acer Inc. All rights reserved. Acer and the Acer logo are registered trademarks of Acer Inc. Other trademarks, registered trademarks, and/or service marks, indicated or otherwise, are the property of their respective owners. All offers subject to change without notice or obligation and may not be available through all sales channels. Prices listed are manufacturer suggested retail prices and may vary by location. Applicable sales tax extra.
1 For Aspire 1 (A114-31), specifications may vary depending on region and market. Office activation required within 6 months of Windows activation date.
2 Based on IEEE 802.11ac draft specification. An 802.11ac wireless equipped computer requires an 802.11ac router to work properly. Actual speed will vary based on range, connection rate, site conditions, size of network and other factors. Up to three times faster comparing 802.11ac with 802.11n.
3 Listed battery life is based on MobileMark 2014® productivity mode testing with wireless on. Details of MobileMark 2014 testing are available at www.bapco.com. Battery life rating is for comparison purposes only. Actual battery life varies by model, configuration, application, power management settings,operating conditions, and features used. A battery's maximum capacity decreases with time and use.
4 Acer recommends that you enlist the help of an Acer service representative when opening the compartment doors. Acer is not liable for any damage that may result from the improper opening of the compartment doors by users.

5 All brands and product names mentioned herein include trademarks of their respective companies and are used solely to describe or identify the products.